By Mark Fong
When Gary Yamamoto Custom Baits officially unveiled the Zako at the 2016 ICAST Show, the fishing world was quick to take notice. Designed by Brett Hite to be the perfect swimbait style trailer for use with vibrating jigs and spinnerbaits, the Zako was an instant sensation. Quietly, members of the Yamamoto Pro Staff had been testing and fishing the Zako with great success for months. Among them was 2002 Bassmaster Champion and FLW Touring Pro, Jay Yelas. Not only was Yelas quick to validate the bait's value as a swimbait, but what he saw in the Zako went far beyond the obvious.
Multi-Faceted
"The Zako has the profile of a magnum tube that we used to flip years ago," explained Yelas. "Everybody has kind of gotten away from that style of bait, but there is a time and a place for it and that is what made me think to try flippin' it (the Zako). I caught lots of fish doing that. It's just kind of a subtle bait, it doesn't have a curly tail or flapping appendages. When it hits the water, it just spirals down. There are times when the bass are eating other fish and it is a perfect imitation. The Zako has its own little niche, it's kind of a cross between a lot of different baits. It's compact and gets right into tight spots like brush and matted vegetation. It's also a different look for people who are fishing pressured lakes; you can go behind guys who are fishing a jig or a craw and clean up. I would recommend it highly for those who like to flip and pitch; it's a good little tool to add to the arsenal."
Flippin' and Pitchin'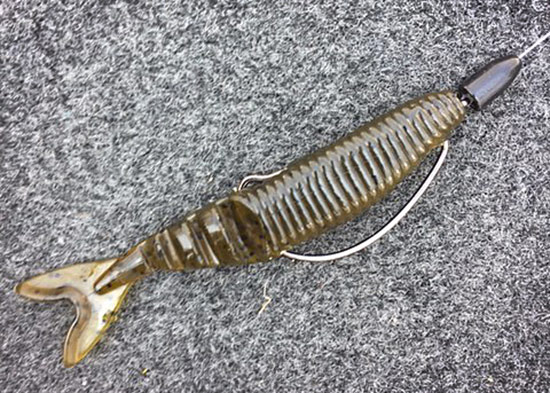 Jay likes to Texas rig the Zako (no peg) with a 1/4oz weight for pitching and flipping to docks and sparse shallow cover.
When the water is cooler and the grass is sparse, Yelas likes to fish wood. "I'll pitch the Zako into the thick parts of laydowns, and brush piles," he says. "If I'm fishing cover that's appropriate for swimming a bait, I'll pitch it in and let it fall to the bottom then I'll slowly reel it back to the boat. It's a bait they'll bite when you are winding it back in."
Yelas has had good success on the FLW Tour with the Zako. "Last summer I finished in the money at the FLW Lake Barkley Tour Event," recalled Yelas. "All the fish I weighed in during the tournament came on a Zako. Some came on a chatterbait with a Zako trailer and I caught some Texas rigging it and pitching it around brushpiles near docks." More recently at this year's FLW Tour event on Lake Travis, Yelas flipped the Zako into brush for a number of important bites.
Punchin'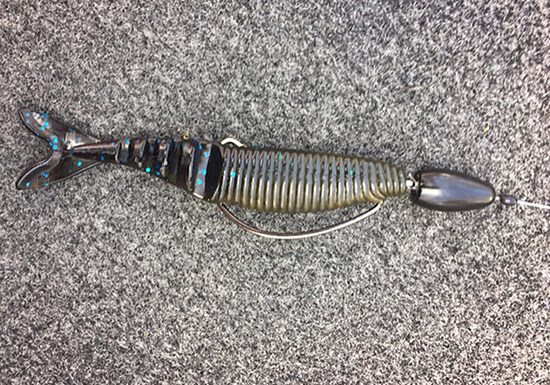 When punching heavy cover, Jay likes to I peg a 1-oz weight with a bonnet stop.
"The Zako is a great punch bait," said Yelas. "It's so compact it will get right through the tightest little spot. It's very efficient and gets right through the thickest cover as easily as any punch bait on the market. You'll get a lot of hits on the initial drop. During the warmer months, look for deeper grass, like hydrilla and milfoil that's matted up on top. Pitch it in there and let it go to the bottom, kind of hop it once or twice. If you don't get bit just start slowly working it back up. Stop, shake it a little bit. Pull it up a little more and shake it again. Work it 'til it's right under the mat, pause and just shake it. I get a lot of bites doing this. A lot of times you can get those fish that are suspended under the mat to bite this way. The shape of the Zako imitates the bluegill that are hanging out under the mats."
Details, Details, Details
Interestingly enough Yelas has had success rigging the bait in a couple of different ways. Initially he started rigging the Zako in the standard fashion as if it were a trailer with the belly down and the hook point exiting at the top of the back. Next he started experimenting with rigging the bait sideways. "There's less plastic to drive the hook through on the hookset," explained Yelas. "Rigged sideways it gets just as many bites. It doesn't seem to really matter, you can rig it either way."
For either rigging configuration, Yelas relies on a 6/0 Zoneloc Wide Gap Magnum Worm Hook but will change up to a 6/0 Straight Shank Flippin' Hook when punchin' heavy cover. Yelas is a proponent of tungsten weights. When flippin' or pitchin' he selects a lighter weight starting at ¼ – 3/8oz and adjusts accordingly to the conditions. When punchin' heavy vegetation Yelas typically uses a 1- 1 1/2 oz tungsten slip sinker which he pegs in place with a bobber stop.
Yelas likes to keep his color selection simple. Black and Blue (021), Green Pumpkin 297), and Cream White (036). "A lot of people don't think about a pearl or white colored bait. When the water is dirty and you see a lot of shad flipping around up in the bushes, that is when you want to use white. The rest of the time it is hard to beat black or green pumpkin," advised Yelas.
Make no mistake, this is short line power fishing. Even when targeting sparse cover, Yelas uses 20lb Lew's fluorocarbon line and a 7'6" magnum heavy Lew's Custom Pro Speed Stick paired with a high speed gear ratio Teams Lew's Lite 7:5:1 reel. For punchin' really thick vegetation, Yelas gears up even more. Opting for the power and limited stretch of 50lb Lew's braided line, a 7'11" magnum casting 3 Custom Pro Speed Stick and a high speed Lew's Super Duty 8:0:1 reel.
"I've talked with some other pros who have been flippin' it," revealed Yelas. It's so hard to keep a secret now with the live BASS and FLW coverage. You only get one chance to have a new bait that's kind of quiet all to yourself before the whole world knows about it." And now so do you.
YAMAMOTO PRODUCTS IN THIS ARTICLE