By Gary Haraguchi
Our fourth stop on this year's FLW Tour was Lake Cumberland in Burnside, KY. Cumberland is a huge, clear water reservoir and the main lake is over a 100 miles long.
There are multitudes of creeks with bushes and standing trees as well as main lake areas with big rock and standing trees. It's pretty easy on the eyes, too. The lake is very vertical with few flat areas. All three species of bass can be found here but there are minimums to take into account: an 18" minimum for smallmouth, 15" for largemouth and 12" for spotted bass. The fish were fat and in pre-spawn but with the smallmouth requiring an 18" minimum length, you sometimes ended up toss back a fish that weighs 3 pounds or more. Ouch!
Our practice was tough, but we caught fish with the following baits:
· ¼-oz jig tipped with a Yamamoto green pumpkin double tail grub (15-20-297)
· ¼-oz Frenzy Nail with a 4" Senko (9S-10-926)
· 5" Senko in watermelon pepper (9-10-194)
· Yamamoto Tenkuu Jerkbait (82-TEN-110-603)
· Yamamoto light wire spinnerbait (77-38-703)
· D-Shad (121-07-364)
Did I mention practice was tough? We only had four keeper smallmouths that met the length requirement, one largemouth keeper and a few spotted bass keepers.
With that knowledge from the school of hard knocks, I rigged up a Powell Max 3D 6104 CB G/C with a Tenkuu Jerkbait as well as two Powell Max 3D 705 CB G/C rods with the Yamamoto light wire spinnerbait and a D-Shad for day one of the tournament. I had the all the other above mentioned baits tied on but hadn't caught a keeper on any bottom type baits so I figured I would start with the moving baits and see how the day played out.
It was hard to target a specific species of bass because the fish were pretty much mixed in together: you could fish the back of a pocket and catch any of the three species. So I decided to fish for smallmouth, thinking if I caught a keeper it might equal two to three keeper spots.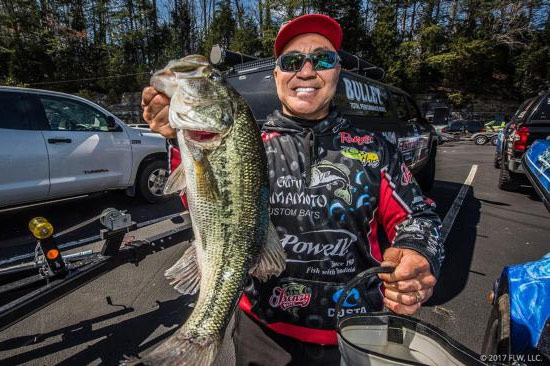 Day One was rough, but I got some beautiful fish on Day Two! - photo courtesy of FLWFishing.com
That plan didn't work out so good. The first day of the tournament I caught a 2 1/2 and 3lb. smallmouth that didn't make the 18" size limit. I ended the first day in 165th place, ouch!
Day two kind of started out the same; catching fish but no keepers. We moved to the back of a pocket where there was a flat that had a creek channel nearby. Bait was active on the surface. After a while my partner caught a keeper largemouth and then another on a crankbait. I tied on a 200-series Yamamoto Chikara Crankbait (82-CHI-200-601) and soon caught a keeper Largemouth, YES!
We fished for a while more with no bites so I decided to tie on a Yamamoto Midasu 75-series lipless crank (82-MID-75-617) and managed another keeper. After many casts and no bites I went back to the Chikara. We spent the rest of the day on the flat and I was able to finish out a limit with the Chikara that weighed 12lbs. 6oz., moving me up to 18th place.
My traveling buddy Jimmy Reese ended up in 55th place on the pro side, missing a check by 1oz. On the bright side he did catch his personal best smallmouth this tournament: a 5.1 beauty.
Onward and upward – Beaver Lake is next!
Thanks to my sponsors for their support of me on the trail: Gary Yamamoto Custom Baits, Powell Rods, Top This, and Frenzy Baits. You can follow Gary on facebook @GaryHaraguchiFishing
YAMAMOTO PRODUCT IN THIS ARTICLE: